Dates
March 7-14 | 2021
| S | M | T | W | T | F | S |
| --- | --- | --- | --- | --- | --- | --- |
| 1 | 2 | 3 | 4 | 5 | 6 | 7 |
| 8 | 9 | 10 | 11 | 12 | 13 | 14 |
| 15 | 16 | 17 | 18 | 19 | 20 | 21 |
| 22 | 23 | 24 | 25 | 26 | 27 | 28 |
| 29 | 30 | 31 | | | | |
4 seats left (8 max)
Why should I travel ​

Yunnan

in these dates?
From

March 7

to

14
, it is the best time to visit these places togather.
Price
USD

2199

per person
Single supplement: $300
Number of CONFIRMED participants: 6 (8 at max)
Included
Photography guiding
All transportation in the itinerary
Accomordation (4-star, best in local) for 7 nights
Personal processing instructions
Fresh Coffee if outdoor in early morning
Airport/train station pick up and transfer in Kunming
Not Included
Flight/train to Kungming
Travel insurance
Tips for guide and driver if satisfied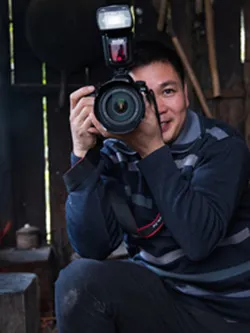 Instructor: Top Gao
Top Gao worked as an English-speaking tour guide for almost 10 years, and got into photography tours since 2016.
Top guided 100+ photographers from all over the world and supported dazons of workshops in recently years for photo tour organizations and clubs from US and Euros area.
Knowing the camera gears well, with unique perspective of composition, will lead you to get portfolio shots in Yunnan.
Photograph the spectacular Yuanyang rice terraces from dawn to dusk, admire the large-scale rapeseed flower fields and beautiful red land, find out the secret of light and shadow on mirror fields.
Kungming arrival.
Welcoming dinner at 6pm. The tour leader will introduce the trip details at night.
Stay in Kungming.
Accommodations | Howard Johnson Flower City Hotel Kunming (5 star)
Heading to Luoping in the morning, shoot the yellow rapeseed flowers, waterfalls around.
Shoot the sunrise over 'Golden Chicken Peak' rapeseed flower fields.
Stay at Luoping.
Accommodations | Cloud Hotel & Resort (4 star)
Rapeseed Flowers in Luoping
Rapeseed Flowers Sunrise + Sunset in Yuanyang
Shoot the sunrise over 'Golden Chicken Peak' rapeseed flower fields in the early morning.
Heading to Yuanyang Rice Terraces after breakfast, it takes about 4 hours drive.
Photograph the sunset at Bada rice terraces.
Stay in Yuanyang.
Accommodations | Cloud Hotel (boutique)
Bada Rice Terraces at Sunset
Yuanyang Rice Terraces Sunrise + Sunset
Start very early in the morning, go to Duoyishu Rice Terrace which is the best sunrise location in Yuanyang to shoot sunrise over golden terraced fields.
Here is the also the easiest place to get great shots, you may see colorful clouds, sea of clouds, mist surrounding the village.
After the sunrise, head to Aichun Village.
Aichun Terraced Fields will magically display a crystal jewel blue under the illumination of the beautiful sunshine. Shoot the rice terraces in different angles and working minority people in fields.
In the late afternoon, shoot sunset over Tiger Mouth Terraced Fields. There are largest rice terraces in this area.
Stay in the village.
Accommodations | Cloud Hotel (boutique)
Amazing Yuanyang Rice Terraces Scenery at Dawn
Sunrise + Jianshui Ancient Town
Shoot the sunrise at Jingkou Terraced Fields in the early morning.
After the sunrise shooting, take a walk into the Hani minority village, shoot the mushroom room, millstone, waterwheel, village path, Hani tribe village.
After the sunrise, head to Aichun Village.
Heading to Jianshui ancient town in the afternoon.
Take a visit of 'Zhu's Family Garden', which is a group of large-scale Qing Dynasty residential buildings. It is known as the "Grand View Garden of Southwest of China".
Stay overnight in Jianshui.
Accommodations | Ting Zi Yun Resort (boutique)
Ancient Zhu's Family Garden
Sunrise + Dongchuan Red Land
Head to Shuanglong (twin dragon) Bridge for sunrise photography. It was named as one the most beautiful photography spots by China National Geographic.
Drive to Dongchuan Redland at noon.
Dongchuan Red Land is considered to be the most imposing red land in the world except Brazil, but the scene is more magnificent than the Brazilian red land. From a distance, it is colorful and adorned with blue sky and white clouds. In recent years, Dongchuan Red Land has gradually become a paradise for photographers.
Shoot the beautiful lines of Yuepuao. Sunset at Waliang House.
Stay in Dongchuan.
Accommodations | Hongtudi Inn (local hostel)
Shuanglong Bridge in Jianshui
Sunrise + Yuanmou Soil Forest
Start early to Damakan village for sunrise photography.
Head to Yuanmou Soil Forest. Yuanmou soil forest is a kind of columnar terrain shaped by soil-like deposits. It is named because looks like forest from a distance.
Looking at the soil forest from a distance, like a magnificent palace, it is like being in the castle gallery.
Photograph magnificent forests before sunset, and feel the "eternal and changing landscape".
Stay in Yuanmou and shoot the milky way at night if it is visible.
Accommodations | Yuanmou Hotel (4 star)
Dongchuan Red Land
Soil Forest + Kunming Departure
Get up in the morning and enjoy the spectacular morning scenery of the soil forest. In about half an hour, the morning glow will make the forest radiant and magnificent.
When the first sun shines on the village of Damakan, the light and shadow are clear, it is the best time to shoot, and the sunrise is about 8 am.
Drive back to Kungming and dismiss.
The old man with Dongchuan Red Land
Booking Policy
Deposit: a USD 300 non refundable deposit is required to reserve your spot.
Full Payment: is required 40 days prior to the tour starts and is accepted by PayPal.
Refund Policy:
- a full refund if you could find a replacement.
- there will be a 50% refund of balance payment on cancellations made less than 30 days prior to the scheduled date of departure
- a 25% refund between 30 and 15 days prior date of departure
- a 10% refund on cancellations made less than 15 days of departure
- Initial deposit will be retained.